So, I'm writing about food. Again. Because eating is always a big priority around here and we believe that, like all things home-related, mealtime should be the essence of graciousness whether you are cooking for your family or entertaining friends. And since we are all short on time, some strategies for making meals that are both quick and gourmet-ish is important.
In order to facilitate that, let me suggest these three ideas: Have a well-stocked pantry; Think beyond recipes; and Pay attention to presentation.
So what's in your pantry? If it involves some stale crackers, a can of soup, and some science experiments that used to be vegetables in the bottom drawer of the fridge, we have a bit of prep work to do. Having a well stocked pantry is critical to pulling off great meals without too many trips to the grocery store.
Here is what we like to keep on hand:
oils - olive oil (plain and lemon), vegetable or canola
vinegars - balsamic (plain and flavored varieties), cider, white wine
dijon
honey
herbs de provence
salt and pepper in grinders
onions
bell peppers
lettuce
cherry tomatoes
cucumber
celery
garlic
canned tomatoes - ground peeled, diced, and san marzano
pasta
rice - assorted types
stock base (such as Better than Boullion or Minor's) - various flavors
beans
eggs
butter
yeast
dairy - milk, heavy cream, half and half
cheese - ALWAYS a chunk of high quality parmesan, sharp cheddar, crumbled blue/goat/feta
frozen peas
bacon and/or pancetta (stored in the freezer)
lemons and limes
baking essentials - flours, sugars, baking powder and soda, good vanilla extract
corn starch
chocolate - semisweet, unsweetened, white
nuts - almonds, pecans, walnuts (we buy these in bulk and store in the freezer)
dried fruit - cranberries, diced apricots, diced crystalized ginger (nuts.com is a great resource)
jams - apricot, fig, etc
fresh herbs
tortillas - these seem to keep forever in the fridge!
We also like to keep bagels and rolls on hand - well wrapped and in the freezer, and an assortment of protein options. I like to have a bag of frozen uncooked shrimp, a package of boneless chicken breasts, and ground sausage and sometimes beef of some sort on hand in the freezer in case I need to pull together a meal with no time for a trip to the market.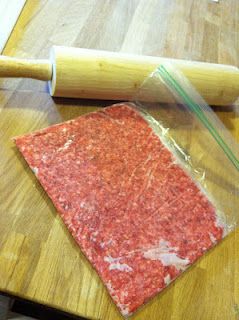 Pro tip: store ground meats in 1 lb portions rolled flat in freezer ziploc bags. They stack easily in the freezer and defrost more quickly than haphazard chunks.
photo credit: waitstwins.blogspot.com
Storing your fresh herbs so they keep more than a few days is essential. This serious eats post is an excellent resource for which herbs to store what way and for how long.
photo credit: seriouseats.com
Speaking of storage, let me just add that my most brilliant move of late has been replacing my tupperware with these deli and bento box containers. With all the deli containers fitting the same lids, there is no more playing 'where's waldo' looking for the right lid, and a single drawer in my kitchen now hold 60 storage containers with room to spare!
Look for our next post in the quick gourmet series, where we'll explore some easy ways to think outside the box when it comes to recipes so you can create gourmet meals with relatively little effort!